RunSafe Security has decided to hold a trivia tournament during CyberWeek and the winner will receive the coveted RunSafe Trivia Cup and earning the moniker, "The Smartest Cybersecurity Company in the World."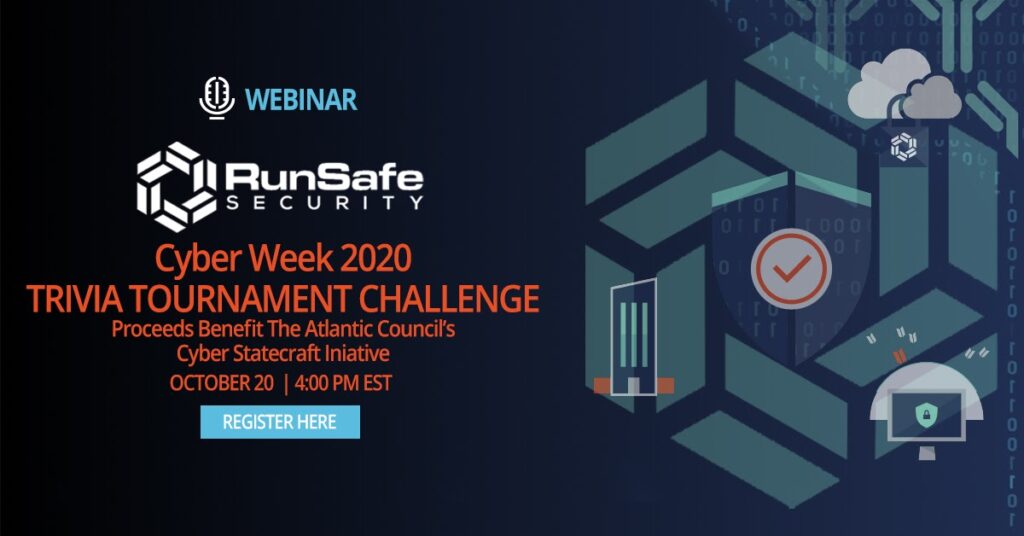 Every week, as part of our internal team social activities, our team competes in individual trivia competitions. The competition is fierce, and we have gotten pretty good at organizing trivia matches.
A couple of weeks ago, as we had one of our fiercest competition yet (complete with a perfect 15/15 performance by one team member), we realized we should challenge our Cyberweek Trivia Tournament by RunSafe Security pits the smartest cybersecurity companies against each other to help build camaraderie among cyber companies while promoting Cyberweek and Cyber Awareness Month.
Tournament Format is Similar to NCAA Basketball Brackets
The 16-team tournament involves 5-person teams who compete head-to-head in a single elimination tournament. Each match consists of 10 questions. Using an algorithm based on speed and accuracy, each person receives a score and the team aggregates scores from all members. At the end of each round, the winning team advances until one .
The Coveted RunSafe Trivia Cup: The Smartest Cyber Company in the World
The winner of the tournament receives the coveted RunSafe Trivia Cup as the Smartest Cyber Company in the World. Meanwhile proceeds of the event will go towards a scholarship program offered by The Atlantic Council's Cyber Statecraft Initiative within the Scowcroft Center for Strategy and Security to advance the development of future cyber leaders.
Events Details
Here are the tournament details:
Format: Head-to-head single elimination tournament
Questions: 5-10 questions per match depending on the Round
Date: Tuesday, October 20, 2020
Time: 4-6:30pm US Eastern Time
Venue: Zoom Webinar (You must pre-register)
Zoom Sign Up: https://zoom.us/webinar/register/WN_-nT7tIYgQM–j5ycRP0Hjw
How to Register
In addition to signing up via Zoom, please send an email to Joe Saunders ([email protected]) to register your team. In the email, please include the names and email addresses of your team members competing in the challenge, the name of the team, as well as confirmation whether you intend to donate to the scholarship program. The suggested donation is $1000 per team.
More information
Click here to download the RunSafe CyberWeek Trivia Flyer.